Watch LIVE Streams of New Nighttime Spectaculars – 'Harmonious' and 'Disney Enchantment' Next Week to Celebrate 50th Anniversary of Walt Disney World Resort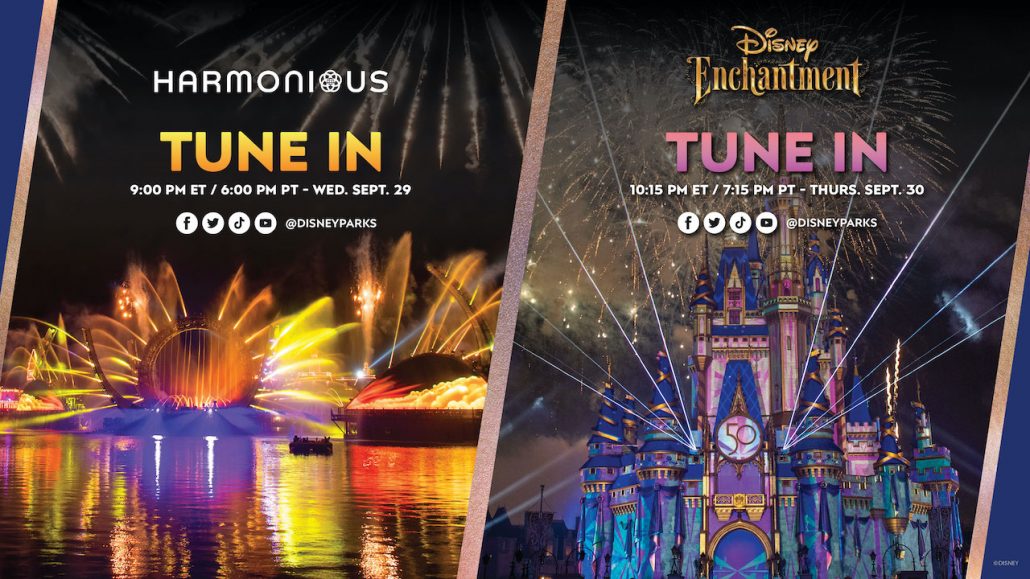 On Oct. 1, two new nighttime spectaculars – "Harmonious" and "Disney Enchantment" – will debut to help kick off our 50th anniversary festivities during "The World's Most Magical Celebration" at Walt Disney World Resort. And as a special early 50th surprise, there will be LIVE stream performances of both ground-breaking shows on the Disney Parks Blog!
Wed, 9/29 – LIVE: "Harmonious" at EPCOT at 9:00 p.m. ET.
Thurs, 9/30 LIVE: "Disney Enchantment" at Magic Kingdom Park at 10:15 p.m. ET.
Beginning at 9:00 p.m. ET on Wednesday, join us to see "Harmonious" at EPCOT, one of the largest nighttime spectaculars ever created for a Disney park. The show, which is a key milestone in the transformation of EPCOT, pays tribute to the stories and songs that unite us all featuring new technical magic that includes special pyrotechnics, moving fountains, special lighting and media.
Disney Live Entertainment and Walt Disney Imagineering have created a transformative experience with "Harmonious" that invites you to travel the globe through new interpretations of classic Disney songs as you've never heard them before. The songs are reimagined in more than a dozen languages by a diverse group of 240 artists from around the world.
"Harmonious" is a unique experience that could only happen at EPCOT, a place dedicated to possibility, wonder and global community.
Just about 24 hours after the "Harmonious" event, there will be a LIVE stream of the new nighttime spectacular, "Disney Enchantment" along with a special celebratory moment, on Thursday at 10:15 p.m. ET from Magic Kingdom Park at Walt Disney World Resort.
In "Disney Enchantment," you're inspired to believe in magic, with captivating Disney music, enhanced lighting, and immersive projection effects that extend – for the first time – from Cinderella Castle down Main Street, U.S.A. The evening extravaganza features stunning fireworks as well as an emotional original song, entitled "You Are the Magic," by eight-time GRAMMY-winner and former Walt Disney World Cast Member Philip Lawrence.
Today, we're sharing a new, magical behind-the-scenes look at how everything is coming together to bring "Disney Enchantment" to life at Magic Kingdom Park.
This one-of-a-kind show features characters, moments, and music from dozens of Disney and Pixar animated films. It takes you beyond the ordinary to a land of magic, where we're swept up in a world of wonder filled with friendship, love and fun. Through it all, we'll discover we only have to look within to find the power to believe and make dreams come true, because the magic was inside us all along!

---
Published: September 24, 2021

[