Woody's Lunch Box at Toy Story Land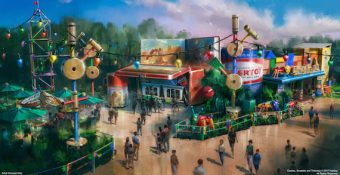 In the toy-filled backyard that is Toy Story Land at Disney's Hollywood Studios®, Guests "shrink" to the size of a toy and explore the world of Woody, Buzz Lightyear, and friends. In the middle of all the fun, Andy has taken his vintage Woody-themed lunch box and propped it open with a thermos, turning it into a walk-up window where his toys can grab a bite to eat. From a nearby tower, green army men stand at the ready, keeping watch for Andy's return.
Opening June 30, 2018, Woody's Lunch Box will dish up all sorts of sandwiches and sides that blend classic flavor combinations with a modern twist, plus nostalgic soda floats and specialty beverages.  Here is a peek into Woody's Lunch Box.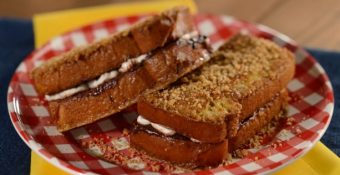 S'more French Toast Breakfast Sandwich – Oozy goodness in a chocolate ganache- and marshmallow-stuffed French toast topped with graham cracker crumbles. Inspired by the classic American campfire treat.
Smoked Turkey, Eggs, Swiss, Peppers, and Onions on Sourdough – The perfect hand-held stack of breakfast goodness.
Breakfast Bowl – The green army men line up for this hearty bowl of potato barrels, brisket-country gravy, and scrambled eggs.
BBQ Brisket Melt – With a nod to cowboy Woody, this Texas-style smoked brisket features cheddar, Monterey Jack, pickles, and BBQ sauce on garlic butter-grilled sourdough.
Monte Cristo with Raspberry Jam – Woody's version of this classic sandwich has layers of ham, turkey, Swiss, and raspberry jam…and is grilled to a golden brown.
Totchos – Potato barrels, corn chips, chili, and cheese – what's not to love??
Sides include tomato basil soup, vegetable macaroni salad, and potato barrels. Mini Babybel snack cheese, the official snack cheese of Walt Disney World Resort, is also an option to eat with a meal or as an on-the-go snack.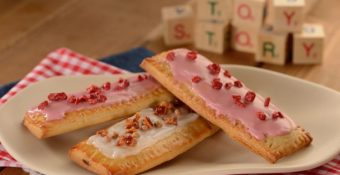 Raspberry Lunch Box Tart garnished with Icing and Dried Fruit and Chocolate-Hazelnut Lunch Box Tart garnished with Icing and Caramelized Bacon – Even toys need a sweet treat! Inspired by breakfast toaster pastries, this modern interpretation, with its uniquely delicate crust, is the perfect hand-held pastry.
The littlest toys can enjoy a grilled cheese sandwich or turkey sandwich, both served with potato barrels and mandarin oranges. For toys looking for more lighter options, they can grab one of these tasty bites at Woody's Lunch Box or check out the many other healthful offerings available at Disney's Hollywood Studios including fresh fruits and vegetables, salads, and grilled meats and fish
Banana Split Yogurt Parfait – Layers of banana-vanilla Greek yogurt (with a hint of honey), fresh bananas, strawberries, and pineapple topped with granola and chocolate chips. A delicious and healthful way to start the day!
Smoked Turkey, Tomato, and Lettuce on Multigrain Bread – This quintessential lunch box sandwich is a light and fresh option. And to give it a kick of flavor, we add a creamy Dijonnaise.
Soda Floats – All toys would agree that a refreshing soda float is the perfect nostalgic beverage!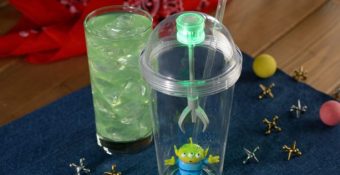 The adorable Alien Sipper may be purchased and filled with any fountain drink or the signature Mystic Portal Punch – Powerade Mountain Berry Blast with flavors of lemon-lime and tangerine.
The big kids can enjoy the backyard with Grown-Up's Lemonade cocktail (cherry vodka, Odwalla Lemonade, and black cherry purée), beer, or hard cider.