Woody's Lunch Box Offers Nostalgia and So Much More by Liliane Opsomer
Woody's Lunch Box Offers Nostalgia and So Much More 
By guest author, Liliane Opsomer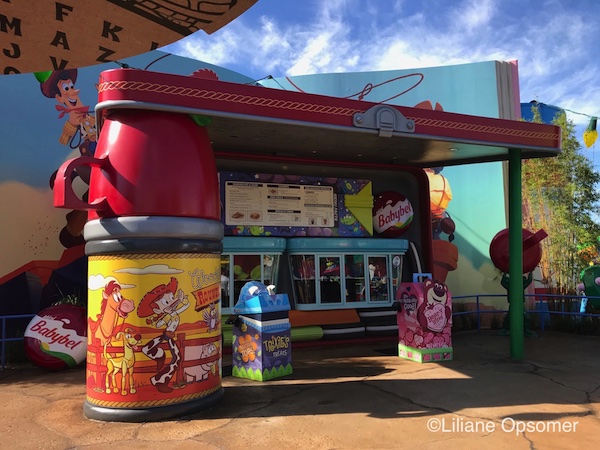 In the newly opened Toy Story Land, you'll find that the fun extends to food, as Woody's Lunch Box serves up classic on-the-go menu items with a creative twist.
The theming of the land, including the quick-service eatery, is neat—and there is, of course, a story to go along with the walk-up eatery. So here we go! Woody took a vintage lunch box and propped it open with a giant thermos to create a picnic area for his Green Army Men. As a matter of fact, a Green Army Man is actually standing guard right next to the mobile order pickup window, lifting a Babybel cheese wheel (the official cheese snack at Walt Disney World).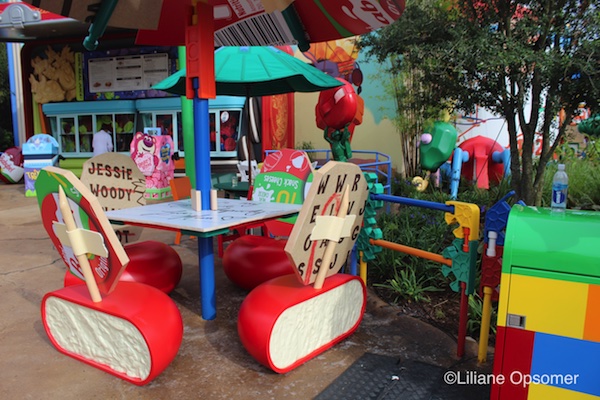 The seating area is nicely appointed, and the tables surrounded by Babybel chairs are ever-so-cute. There is no indoor seating, but tables have umbrellas that provide shade.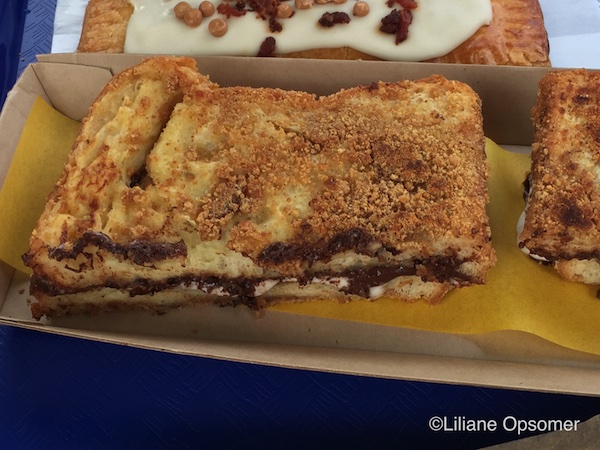 For breakfast, the eatery serves potato barrels smothered in smoked brisket country gravy, topped with scrambled eggs and a sprinkling of green onions. The campfire-inspired chocolate ganache- and marshmallow-stuffed French toast sandwich topped with graham cracker crumbles is likely to be the breakfast favorite, though. There are also raspberry and chocolate-hazelnut fruit tarts; healthier options come in the form of a smoked turkey breakfast sandwich or a banana split yogurt parfait.

For lunch and dinner, guests can enjoy a BBQ brisket melt, a grilled three-cheese sandwich  or Totchos. The Totchos require some explanation! The Totchos bowl is loaded with potato barrels (read tater tots) coated with beef and bean chili, shredded cheese, and queso. The dish is topped with tomatoes, corn chips, sour cream, and green onions. It is a very satisfying dish, albeit very heavy.. It is definitively a great choice.
All portions, especially the BBQ brisket melt are pretty generous and ideal to share, especially if you add one of the sides, such as the amazing tomato-basil soup or vegetable-macaroni salad.
The lunch box tarts are available for dessert and even offered as a snack by cast members roaming the land with carts. I am not a fan of sweet dishes, certainly not for breakfast, but the tarts are really enjoyable. The dough tastes like a cookie, and my favorite is the chocolate-hazelnut tart coated in maple fondant and candied bacon.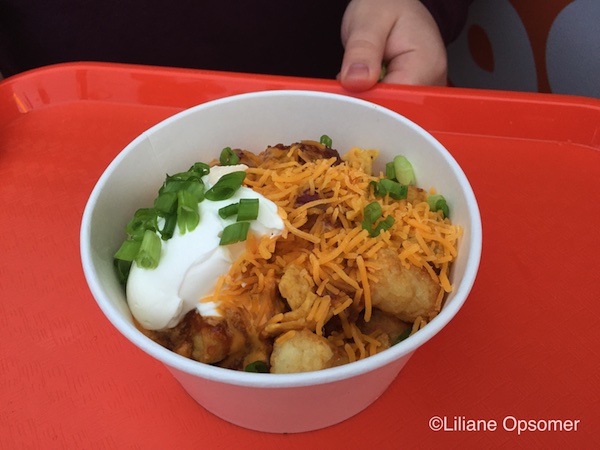 The Totchos and fruit tarts with icing might not be what you want for your child, but fear not, healthier options are available elsewhere at The Studios. Kids, however, will love these options, and I did too.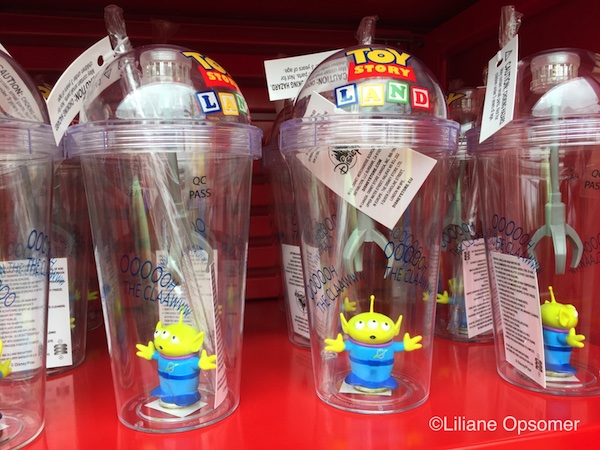 There are quite a few specialty drinks available at Woody's Lunch Box, including a classic ice-cream float with root beer and an adult lemonade. As stated above, I am not a fan of sweet stuff, so I can easily skip all of the drinks offered at the eatery, but I did fall in love with the alien sipper cup featuring The Claw! Luckily, the cup is available for purchase minus the drink. When in doubt, however, go for the Grown-Up's Lemonade, made with Three Olives Cherry Vodka, lemonade, and black cherry purée.
Just like the rides, Woody's Lunch Box is popular and busy; lines for ordering food can get long. I recommend you take advantage of the mobile ordering system. It is efficient and helps you make the best use of your time in the park.
Liliane Opsomer is the coauthor of The Unofficial Guide to Walt Disney World with Kids. 
She visits the parks several times a year.