Celebrating World Princess Week: The Stories Inspired by the Destinations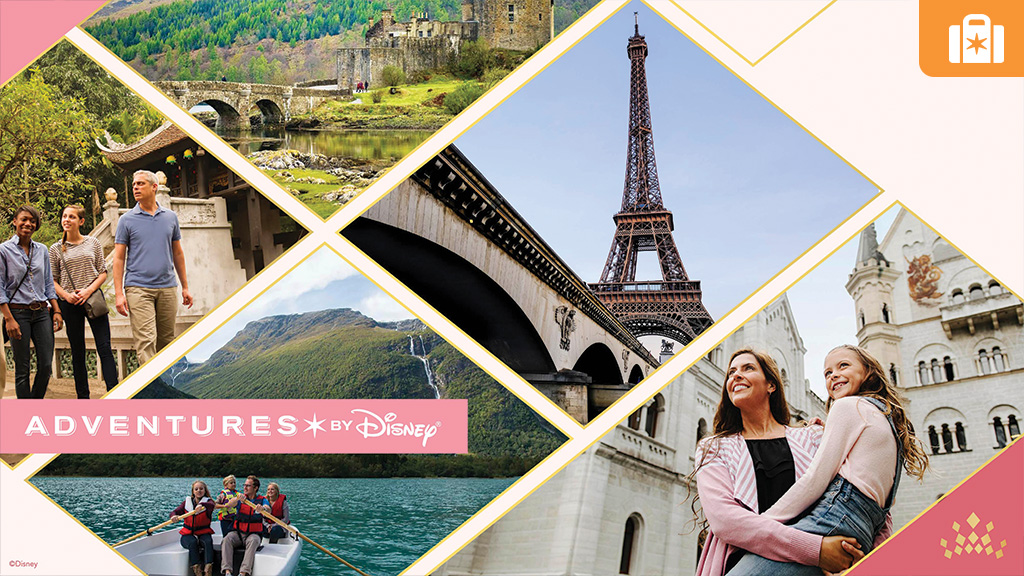 Welcome back, adventurers!
Here at Disney, we are celebrating World Princess Week! Did you know that Disney Princesses and their stories are inspired by different countries around the world? And at Adventures by Disney, we take guests and their families to some of those incredible destinations. From France to Norway and all the way to China, let's celebrate World Princess Week by exploring the beautiful places that our favorite Princesses – and Queens! – call home.
Raya (Vietnam, Laos and Cambodia)
Our adventure begins in Southeast Asia, which inspired the land of Kumandra, home to newly announced Disney Princess Raya, from Walt Disney Animation Studios' "Raya and the Last Dragon." On an Adventures by Disney Private Adventure to Vietnam, Laos and Cambodia, guests experience the diverse stories and history that Southeast Asia has to offer, including a walking tour through Ancient Hoi An, a tuk-tuk excursion through Angkor Archaeological Park, and Tai Chi class.
2. Merida (Scotland)
Next up is Scotland, where the brave and bold Merida lives! A trip to Scotland with Adventures by Disney is truly as magical as the kingdom of DunBoch, with visits to the Edinburgh Castle, Loch Ness and Bogbain Farm. You can even channel your "inner Merida" and try out your archery skills on this adventure.
3. Elsa and Anna (Norway)
Now we journey to Norway, where Queens Elsa and Anna, from Disney Animation's "Frozen" reign! Our Norway Land Adventure takes guests on boat and biking journeys through the beautiful Norwegian fjords and glaciers, just like the scenery surrounding the sisters' castle in Arendelle.
4. Belle (France)
Whether it be a River Cruise, Private Adventure or Land Adventure, there are many ways to experience France with Adventures by Disney! Discover the beauty of France, the home of Belle from Disney Animation's "Beauty and the Beast," during a private tour of The Louvre, walking and biking through the Garden of Versailles and dinner at the Eiffel Tower. And let's not forget the little towns and quiet villages guests will discover, including the town of Riquewihr which actually inspired the town in "Beauty in the Beast!" This is a stop on the Rhine River Cruise itinerary.
5. Rapunzel (Germany)
Experience authentic German culture with an Adventures by Disney trip to a country where Rapunzel's story originated! Let down your hair during this Germany Land Adventure and enjoy a Neuschwanstein castle tour, medieval costume dress-up and a chocolate-making experience.
6. Aurora (France)
In addition to River Cruises, Private and Land Adventures, Adventures by Disney even takes guests to France by way of Disneyland Paris! On a Disneyland Paris Vacation, guests will see the magnificent Sleeping Beauty Castle, home of Aurora, from Disney Animation's "Sleeping Beauty" … and a dragon! The Disneyland Paris Vacation also includes Disney Resort accommodations and premier access to attractions in the Park.
7. Mulan (China)
We end our royal tour in China, home of Princess Mulan. Our China Land Adventure offers guests the opportunity to discover the beauty, history and wildlife of China. Guests will experience Shanghai, Hong Kong, Beijing and a few more extraordinary cities with some exciting stops along the way.
There are so many places around the world that inspire our Disney Princess stories. Adventures by Disney offers authentic and fun adventures to these destinations for the entire family!