Adventure by Disney to Germany by Agent Leigh – Part One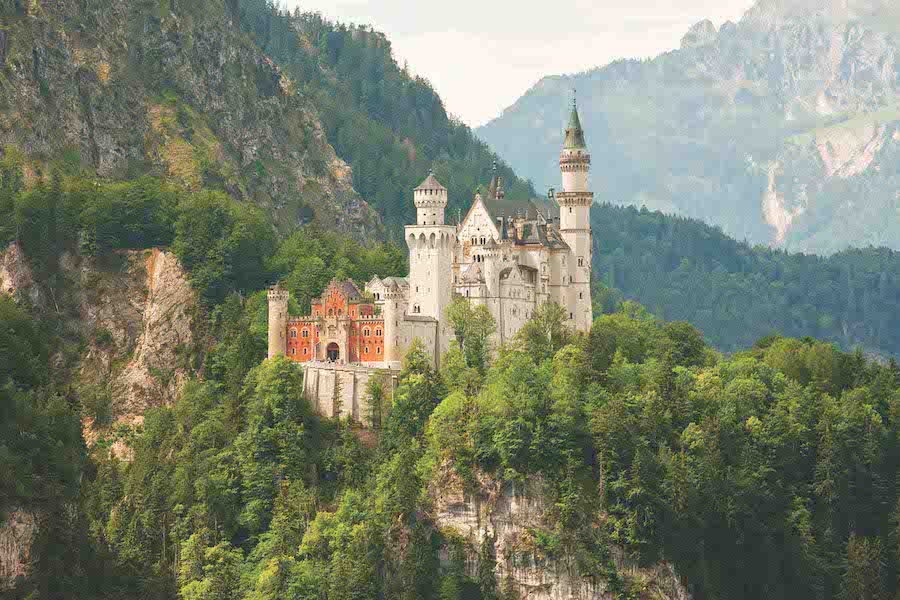 Castles and Cobblestones; Good vs evil; historical monuments existing side-by-side with modern day conveniences.  You may think this is the theme of an up and coming blockbuster movie but it's really just a small summary of what you will discover on "Deutschland Discoveries, an Adventure by Disney through Germany!   Myself and fellow Small World Vacations' agent, Jo, were privileged to be able to participate in what can only be described as an adventure of a lifetime traveling through Munich, Rothenburg, Nuremberg, and Berlin.
Our adventure began early, and I do mean EARLY.  I traveled on what is accurately named a "red-eye flight" that began the day before.  No matter where you are flying from in the United States, there is a significant time difference to factor in when arranging air travel as well as what time your Adventure begins.
Agent Tip #1 For overseas Adventures, book a pre-night, (and preferably more) EVEN if you are arriving that morning.  This allows you to go immediately to your room upon arrival at your hotel, get settled and freshen up, instead of wondering around in an unfamiliar country tired from flying all night and waiting till check in time (usually 3- 4PM).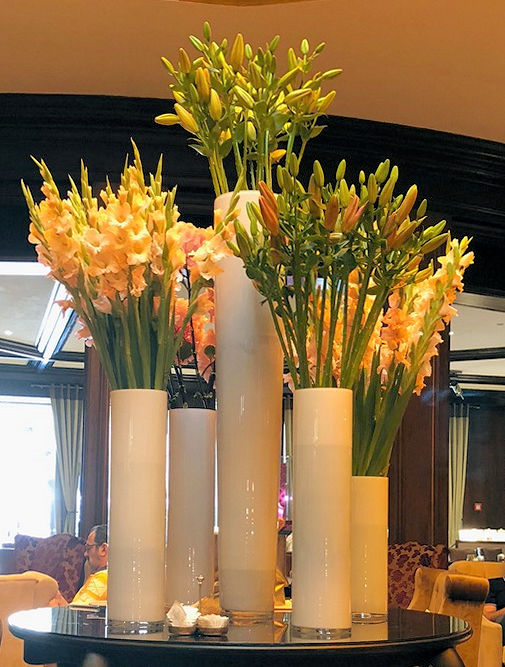 We arrived at the Hotel Vier Jahreszeiten Kempinski (say that 3 times fast) a 5 Star hotel in Munich which would be our home for the next 3 nights.
The rooms at Hotel Vier Jahreszeiten Kempinski are well appointed with all the modern conveniences a person could want or need and even a considerable amount of "green" measures taken to recycle and reduce waste We found this quite interesting considering the hotel had been in existence since 1858 and has quite a history in and of itself.
Agent Tip #2 If you are a larger family ask your agent about how to book 2 rooms as most bedding will be 2 double beds, even in 5 Star hotels.  A family of 4 with all adults or older children would relish the extra space.
After plenty of time to get settled in we went to say "willkommen" (welcome in German!) to our fellow adventurers as well our Adventure Guides and see what adventures lay ahead!
Adventures by Disney provides not just one but two guides who travel with you through the entire adventure and will be fluent in English as well as the predominant languages of the countries you visit.  These guides are critical to a successful adventure and once again Adventures by Disney did not disappoint!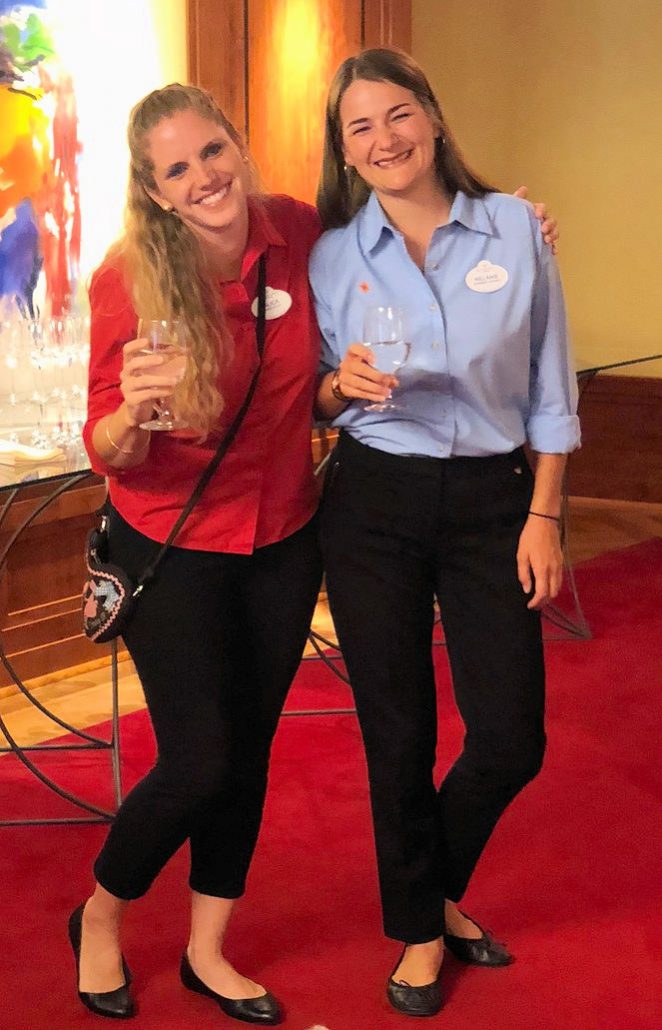 Our guides, Alicia (left) and Melanie (right)"prosting" (German for toasting) us with water to remind us there's a heatwave in Germany and to stay hydrated!
Alicia and Melanie, both originally from Germany,  got us started off on the right foot by showing us where we would be heading as well as teaching us a few key words such as the aforementioned "wilkommen" and "prost" as well as a few other important ones such as "spätzle", "Wiener Schnitzel" and "Schneeball"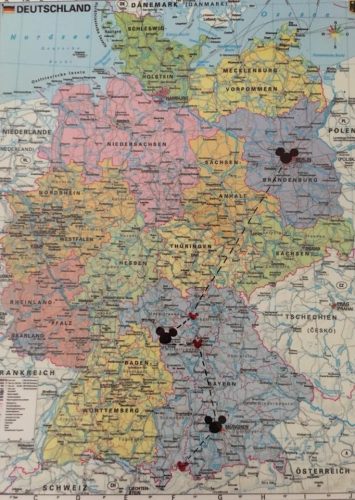 We had many things to do and see and in addition to our 2 guides, Adventures By Disney enhances the experience by providing what are termed "jump on" guides.  These guides, in short, would "jump on" at different parts throughout the Adventure to do any number of things; They would educate and entertain us with historical details, folk lore, personal stories and even dancing. Our first "jump on" guide was Michael a local guide as well as history teacher and he would greet us each day .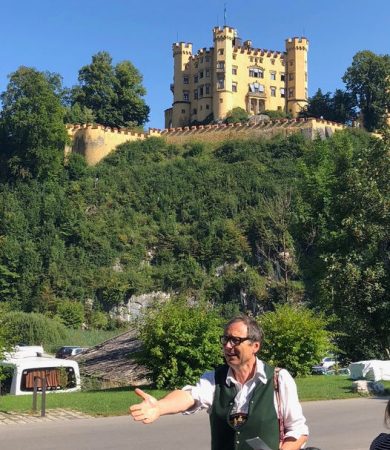 Michael got us up and moving and out the door to begin our Adventure, with a walking tour of Munich before dinner at the historic RatSkellar, Munich's oldest wine cellar! (No worries, there are no rats on any menu – lots of sausage, but no rat)
Agent tip#3 – There are many historical sites with a considerable amount of detail within easy walking distance of your hotel. During your free time it is recommended you may want to go back and "revisit" some of the sites you will see on the tour as it is very easy to miss the details. The hotel will be happy to give you a map and point you in the right direction We did this several times and it was well worth the additional time on our feet.
There are so many places to see that it can be overwhelming, especially for first timers!  Below are a few of the local attractions you can visit.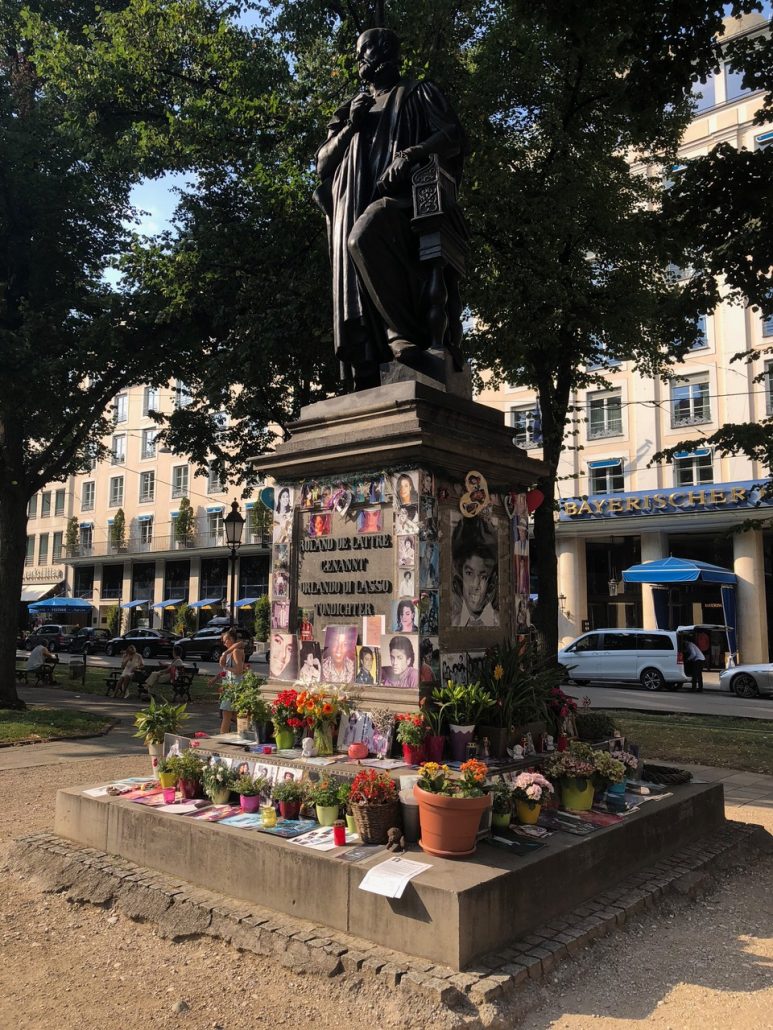 Our guide Michael was great in mixing historical content with more current items. For example the picture above was one such stop.  Pop icon Michael Jackson loved Munich and Munich loved him.  Before his death he was making plans to move there.  The hotel you see in the background, Hotel Bayerischer hof, was the location of the infamous photo of Michael Jackson "dangling" his son "Blanket" over the balcony.  When word reached Munich that he had died, thousands of people descended upon the hotel to leave flowers and notes to show their love.  It got to be so overwhelming and such heavy foot traffic that the "memorial" had to be moved across the street, so people began leaving items on this statue (which has nothing to do with Michael Jackson) It's well maintained, and the tributes are from all over the world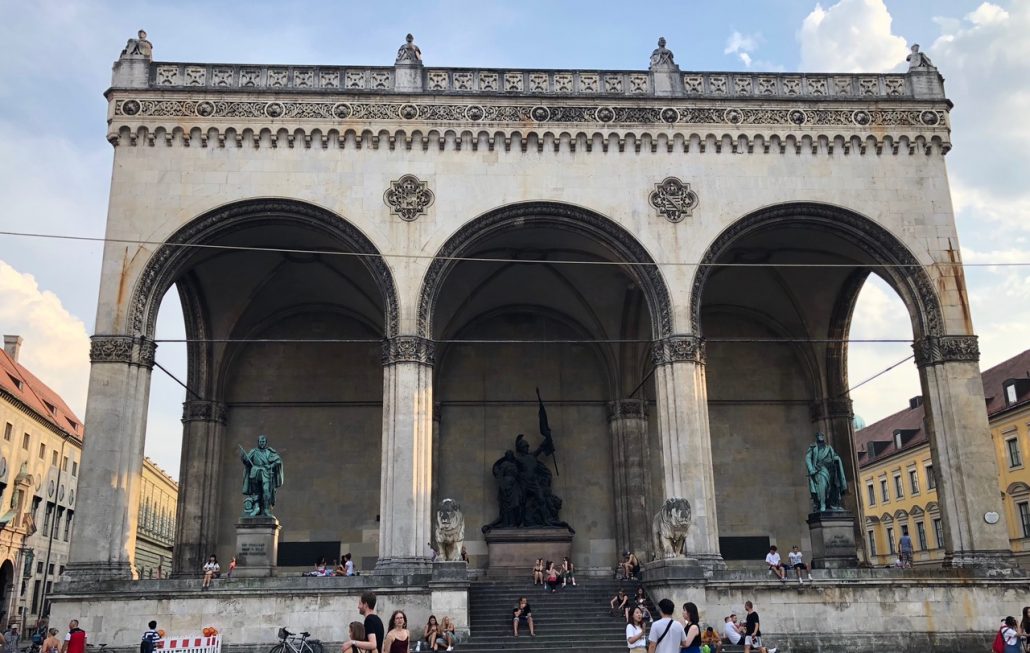 The Feldherrnhalle (Field Marshall's Hall) is a crucial and sobering chapter of Munich's history. Originally built in the 1840's at the request of King Ludwig I  to honor the Bavarian army. Over 100 years later it was the site of the failed first attempt of the Nazi's to take over Bavaria. Later, Hitler turned it into a memorial to those Nazis killed during that attempt and during his reign new recruits would take their oath of loyalty to Hitler in front of it.  If you passed Feldherrnhalle  you were required by law to salute the Nazi's.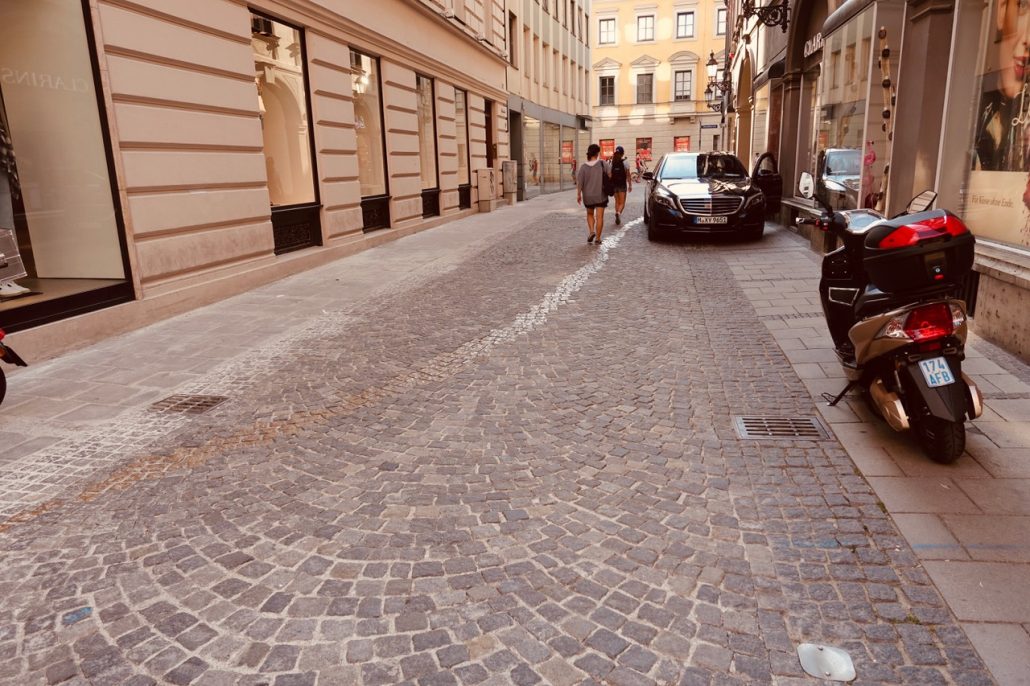 Many Germans found the Nazis abhorrent and would do anything they could to avoid interacting with them.  Viscard Alley is a small street behind the Feldherrnhalle where those wishing to avoid the Nazis would go down to avoid having to salute as they passed the Feldherrnhalle.  This street became known as "Shirker's alley or Dodger's Alley" The stones were painted gold later as a memorial to those people who defied the Nazis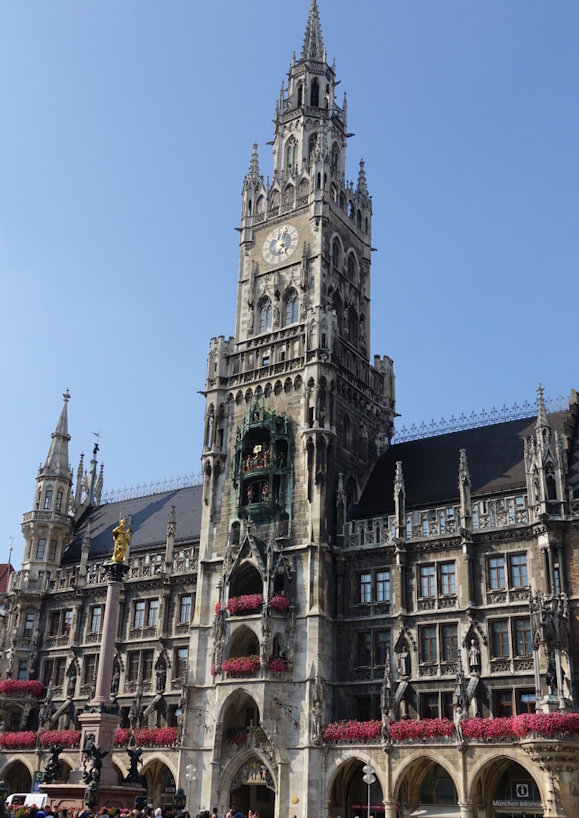 In the mid to late 1860s Munich was growing extremely fast and as a result they needed to move the "city duties" to a larger area thus leading to the building of New Town Hall (Neues Rathaus)  A centerpiece of this is the 28 foot tall "Glockenspiel", the largest mechanical clock in Germany. 2 shows are held daily with a 3rd show at 5PM during Summer months, which was why we had to hurry!
Below New Town Hall is the RatSkellar, Munich's oldest wine cellar and our first group meal!
Most Adventure group meals will be "family" style.  When people think of German cuisine they think of things like sauerkraut, pretzels, sausage, and beer and yes all of those plus MUCH more can be found on this Adventure!  Here are just a few small samples (Not a meal goes by without pretzels, I promise)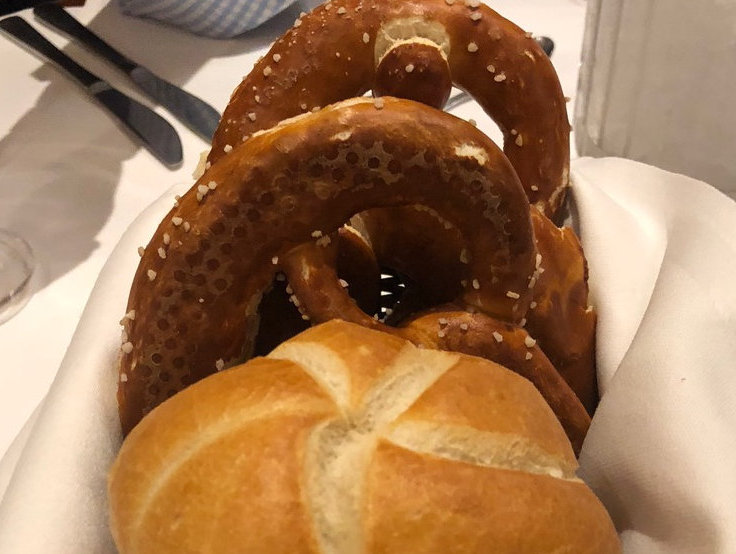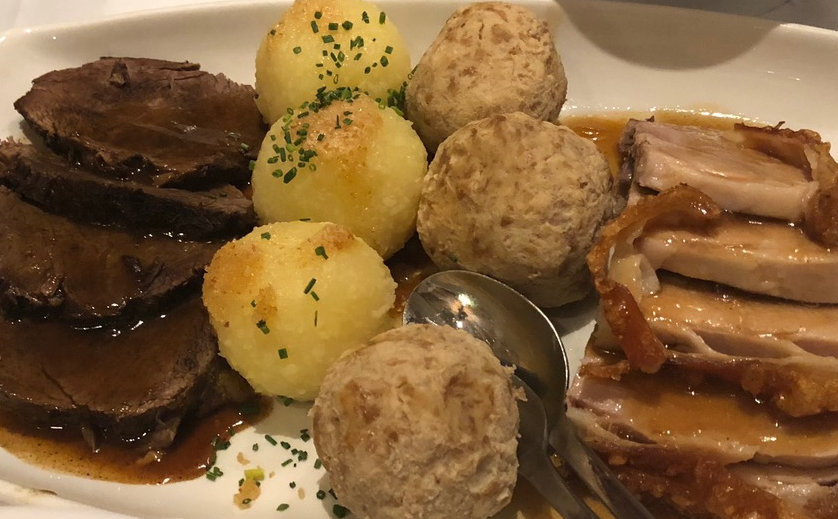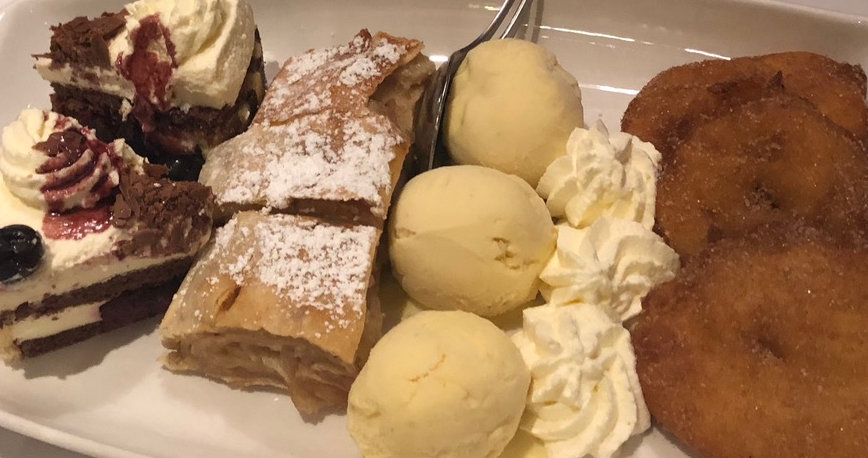 If it isn't obvious, after that dinner/carb loading we were ready for a good night's sleep!
Adventure by Disney to Germany by Agent, Leigh – Part One
Adventures by Disney to Germany by Agent, Leigh – Part Two
Adventures by Disney to Germany by Agent, Leigh – Part Three
Agent Leigh is happy to help you with your own Adventure by Disney. Contact her for assistance at Leigh@smallworldvacations.com 
Her travel companion was Small World Vacations' agent Jo. You can contact her at Jo@smallworldvacations.com
Save up to $1000 on your Adventure by Disney when you book with Small World Vacations. Savings courtesy of Small World Vacation.